Za izradu nadgrobnih spomenika praktično se može koristiti svaki postojan materijal. Prve spomen-ploče izrađivane su od drveta, koje ipak nije materijal koji može da odoli zubu vremena i vremenskim uslovima. Zatim se za izradu spomenika koristio kamen, koji su klesari grubo obrađivali i koji je opstajao dugi niz godina. U novijoj istoriji kameni spomenici su ukrašavani umjetničkim i religioznim motivima ali i dalje su to bili osnovni, pregrubi radovi.
Danas ipak veću pažnju posvećujemo vizuelnim karakteristikama spomen-ploča, istovremeno zadržavši postojanost i kvalitet materijala. Zahvaljujući prije svega modernoj tehnologiji, digitalnim i veoma preciznim mašinama, obrada kamena je dostigla savršenstvo. Nadgrobni spomenici se danas izrađuju uglavnom od kvalitetnih vrsta granita, koji je sasvim sigurno nakompletniji materijal za izradu spomenika. Na zapadu se spomenici jos izrađuju i od mermera, kao od bronze, ali to su ipak materijali prilično podložni propadanju, usled vremenskih neprilika, čestim promjenama temperature, raznih spoljašnih uticaja i naravno vijeka trajanja.
Granit ili mermer
Važno je ukratko naglasiti osnovne razlike i prednosti granita u odnosu na mermer, bar kada je riječ o izradi nadgrobnih spomenika. Iako su i granit i mermer stvarani duboko pod zemljom tokom više miliona godina, procesi koji su ih formirali su sasvim drugačiji. Otud granit i mermer dolaze u različitim kvalitetima, od kojih neki nisu pogodni za izradu nagrobnih spomenika.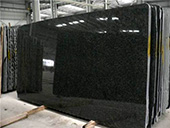 Granit je dubinska magmatska stijena formirana u zemljinoj kori. Nastaje učvršćivanjem i hlađenjem uzavrele magme usled ogromnog pritiska. Sa prosječnom gustoćom od 2750kg po metru kubnom, otporan na hemikalije i kiseline, granit predstavlja jedan od najtvrđih materijala i kao takav je kroz istoriju često korišten u građevinarstvu. Pravilno obrađen, granit postaje vizuelno veoma lijep materijal koji će istovremeno trajati dugi niz godina bez ogrebotina, mrlja i pukotina. Granit dolazi u nešto manjem izboru boja u odnosu na mermer.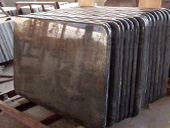 Mermer ili mramor je metamorfna stijena koja je nastala kristalizacijom krečnjaka i dolomita. Mermer je prilično porozan materijal i kao takvog lako ga je oštetiti. Jedna jedina ogrebotina može dozvoliti tečnosti ili čak oksidaciji iz vazduha se zavuče ispod površinskog sloja mermera i tako ubrza propadanje. Ako ovome dodamo činjenicu da su nadgrobni spomenici konstantno izloženi vremenskim prilikama, naglim promjenama temperature i drugim spoljašnjim uticajima, jasno je da ne želite koristiti mermer za nešto što treba da traje praktično vječno.
To ne znači da ne treba da se koristi uopšte. Mermer može biti idealan materijal za izradu dodatnih elemenata nadgrobnog spomenika, klupica i dr.
Kamenorezac kog se odlučite će vam predstaviti sve vrste kvalitetnih granita i finih mermera koji će se prilagoditi različitim stilovima slova, dodatnim elementima i dizajnu spomenika uopšte. Obratite posebnu pažnju na boju i strukturu granita za koji se odlučite, da vam se ne bi desilo da platite više za nešto što samo liči na ono što ste zaista naručili a razlika zapravo zna bti ogromna, što se ogleda u izgledu i naravno dugovječnosti nadgrobnog spomenika.